Benefits of Glucosamine, the Chiropractor's Choice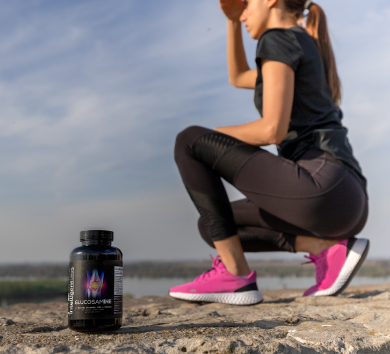 Slow joint degradation and better mobility*
According to studies, Glucosamine reduces the breakdown of collagen (joint tissue), and this is especially important for athletes participating in high-impact sports. Chondroitin, which occurs naturally in our connective tissues, has been proven to increase joint mobility.
Boswellia extract from the resin of the frankincense tree provides pain relief for tired joints by reducing the inflammatory response. Studies prove effective pain relief for adults suffering from chronic pain without side effects.
Antioxidant and anti-inflammatory*
MSM, also known as methylsulfonylmethane, is a powerful antioxidant that prevents free radical damage to our cells. Curcumin, a compound in turmeric, is a natural anti-inflammatory that blocks the NF-kB molecule that contributes to many chronic diseases.

The Perfect Combination
Get relief from joint pain with our unique composition: 1500mg glucosamine + boswellia + chondroitin + turmeric!

All-Natural Joint Healing
Glucosamine, the Chiropractor's Choice, combines the 8 most powerful joint care ingredients.

Quality Control
This dietary supplement is manufactured in the USA in an NSF GMP certified facility.
Money Back Guarantee
Love It or 100% money back guarantee. If you don't like our product, simply return it for a full refund.
Why should I take glucosamine?
Joint pain, arthritis, and the breakdown of the body and incomplete recovery from injury are products of inflammation. Our Chiropractor's Choice Glucosamine treats inflammation and stops pain and discomfort. This allows the body to start its own healing process and rebuild itself from the inside out.*
Our glucosamine complex is specifically designed to stop inflammation. It then provides your body with the exact formula of glycosaminoglycans and collagen needed to rebuild joints, reduce pain and increase range of motion.*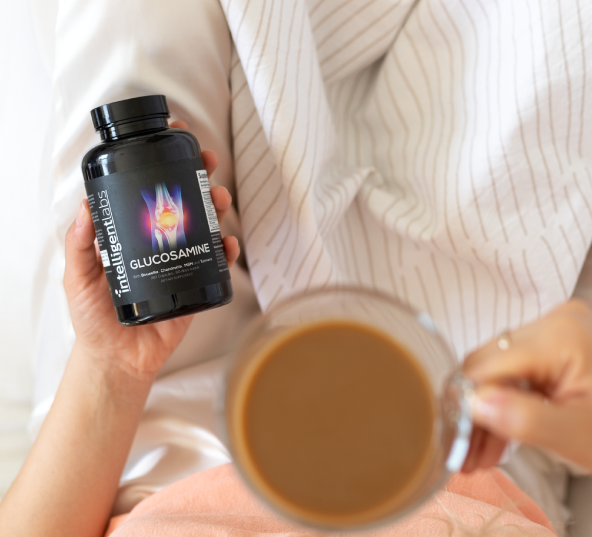 [ /vc_column]
Triple strength glucosamine
Each serving contains a triple-strength dose of 1500 mg of glucosamine. This amino sugar helps in the production and maintenance of cartilage, the connective tissue that cushions bones against impact. It also helps support joint structure and function.*
With Boswellia and turmeric, valuable herbs of Ayurveda!
Exclusive to Intelligent Labs, our Chiropractor's Choice Glucosamine also contains Boswellia and Turmeric, two incredibly powerful anti-inflammatory agents. Both have been used in Ayurvedic medicine for centuries to treat arthritis and other health problems.*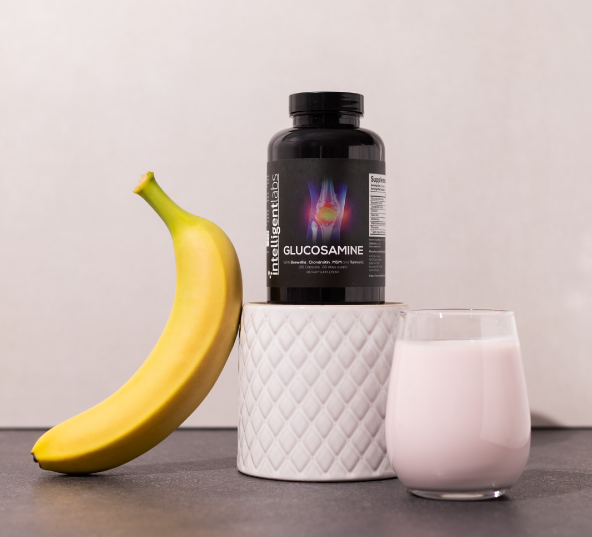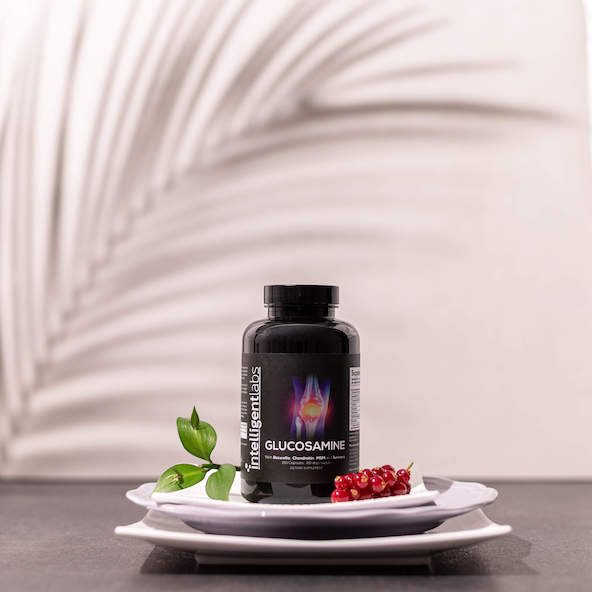 [ /vc_column]
Plus chondroitin, quercetin, MSM, methionine and bromelain
No need to buy these components separately! All ingredients have been selected for their anti-inflammatory properties. Together, they reduce inflammation, joint pain and swelling so you can continue living life to the fullest!*
At Intelligent Labs, we use the highest quality ingredients to create the best joint supplement on the market! We do not use fillers, artificial flavors, additives or preservatives in any of our health products.
Glucozamine, our Chiropractor's Choice product, is manufactured in the United States in an NSF GMP certified facility.

DOES NOT CONTAIN DAIRY PRODUCTS



WITHOUT ARTIFICIAL COLORS
DOES NOT CONTAIN ARTIFICIAL FLAVORS

WITHOUT ARTIFICIAL BINDERS

DOES NOT CONTAIN CHEMICAL PRESERVATIVES
Facts about the supplement
Serving Size: 3 Capsules
Servings Per Box: 60
Ingredients: Glucosamine sulfate , Boswellia extract, chondroitin sulfate, turmeric root (Curcuma Longa), quercetin, MSM (methylsulfonylmethane), methionine, bromelain.
Other ingredients: Cellulose (vegetable capsule), rice flour
ATTENTION: Consult your doctor if you are taking medication or have any health problems.
Keep out of reach of children. Do not use if the seal is damaged or missing. Please do not consume the enclosed packaging. Store in a cool and dry place. Avoid excessive heat. Close the cap when not in use.
FREQUENTLY ASKED QUESTIONS
How long will it take to see the result?
It depends on what you use it for – published medical studies usually follow people for several weeks to assess its effectiveness. Glucosamine is also recommended to be used in combination with exercise.
How many servings are in a box?
One bottle contains 60 servings, which is enough for 2 months.
How many capsules should I take a day?
We recommend taking 3 tablets daily before meals. However, for faster relief, you can also take 6 capsules a day.
Does this product taste like shellfish?
No, unflavored. You won't smell a thing.
Does this product smell? Does it contain any fragrance?
No, it's a powder in a capsule, so it has no smell.
Where does glucosamine/chondroitin come from? Kosher?
The source is shellfish, so no, unfortunately it is not kosher.
Does it have a fishy aftertaste?
Should I talk to my doctor before taking this?
We only use natural ingredients for our Glucosamine, Bonesmith's Choice product, but we still recommend that you talk to your doctor before you start taking this supplement.
Do you want to know anything else?
Then send us a message at support@intelligentlabs.org or via our contact page and we'll respond right away.

These statements have not been evaluated by the Food and Drug Administration. This product is not intended to diagnose, treat, cure or prevent any disease